Faces of WID October 2021
FACES OF WID- June 2021
Name:  Sarah Harrison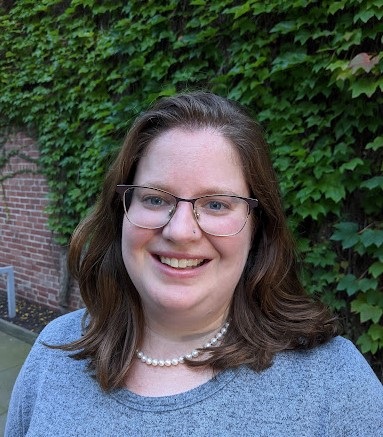 Title & Organization: Development and Events Manager, Cambridge Center for Adult Education
WID Role: Member of Marketing & Communications Committee
Hometown: Denver, CO
Lives Currently: Boston, MA
Education: BM Musicology, Boston University; MS Arts Administration with a Fundraising Certificate
Hobbies: fiber arts projects with very specific instructions such as cross stitch and knitting, befriending other people's cats until I get my own, and playing piano from time to time (though never as much as I would like)
When and how did you join the development field? What path brought you to your current role?
I found the development field shortly after I graduated college. My first internship post undergraduate was managing education programs for a part time orchestra. I was convinced that I wanted to work in classical music education programs through which I could engage young people with this art form that made such an impact in my life, but I had very little experience in education. I discovered my passion for development work through an administrative role with a youth orchestra in which I supported the then Development Director. I realized that I could contribute to the work that I am so passionate about by connecting donors to mission-driven arts and culture and/or education nonprofit organizations. Working towards a fundraising certificate in my MS in Arts Administration at BU and enjoying the challenges in my first fundraising focused role at the Cambridge Center for Adult Education (CCAE) affirmed that I had chosen the right path.
Is there someone who has shaped or influenced your career in development? If so, in what way?
I have been incredibly fortunate to work for very passionate, dedicated, and knowledgeable development professionals. The person who influenced my career the most early on would have to be the previous Development Director with the Denver Young Artists Orchestra, Barb. She is incredibly genuine with such a human centered approach to fundraising. Her conversations and relationships with donors never felt transactional but often resulted in a generous gift to the organization. She was immensely passionate about the young musicians, and she found others that shared the same passion. She is the reason why I am on my current path, and I am immensely grateful for her!
Tell us a bit about the organization for which you currently work and why fundraising is important to the mission?
I have worked with the Cambridge Center for Adult Education (CCAE) for two years. CCAE provides a wide range of high-quality, low-cost experiential adult education. We welcome students from all walks of life to come together and create, explore, and grow in our wide range of classes from art and cooking to languages and literature, and more. CCAE has for 150 years presented in-person learning opportunities for adults, and, for the first time since April 2020, online learning opportunities. CCAE provides a unique space where adults can pursue something that they have an interest in and have never had a chance. I, myself, have benefited from their yoga, visual arts, and cooking classes!
A key to CCAE's mission is keeping classes affordable and accessible to all by maintaining low tuition, offering need-based scholarships, and making classes available for free to those that would not normally be able to afford them. At this time when we still cannot be fully in person, tuition revenue covers less than half of our expenses, so fundraising is essential to maintaining our mission. Check us out at www.ccae.org.
As we continue to navigate the challenges posed by the COVID-19 pandemic, what has been your biggest takeaway either personally or professionally?
People yearn for connections! This was evident especially during the beginning of the pandemic when we were all stuck inside of our homes. In my personal life, I rekindled many old friendships both near and far that have remained among my top support systems throughout these past 19 months. Professionally, I have witnessed the impact of not only finding creative ways to bring our community together but also having one-on-one conversations and calling up our donors to see how they are doing.
Why did you join WIDGB? How has the WIDGB community supported you either throughout the pandemic or before?
I met with one of my mentors back in August 2019 to ask how I could break into the development field, and her top recommendation was to join WIDGB.  I would not be where I am today without my membership which has provided professional development, mentorship, and networking opportunities with a strong and encouraging group of women who have not only helped me enter the development field but also excel in it. Once the pandemic hit, at a time when I was still somewhat new to a development focused role, the exchange of ideas through the WIDGB/CCS webinars was essential in navigating the unknown and learning how to connect with donors in new ways. I have gotten to know the WIDGB community even more as a relatively new member of the Marketing & Communications Committee. There is such an emphasis on supporting Development professionals in every step of their career through networking, career resources, and programming, and I am truly grateful for all the support that I have received through WIDGB!
Describe your biggest development success story to date Or Can you share with us an inspiring development story from your career?
This would have to be managing all logistics for a CCAE Zoom fundraiser, breakout rooms, bag of treats pick up, and all, for 200 attendees. All the work figuring out the nitty gritty logistics demonstrated CCAE's mission with a bang with little technical issues and showed Zoom can provide a sense of community.
What advice would you offer to someone new in the field of development?
Approach your work with curiosity and authenticity. Try to have a better understanding of how donors see your organization and what could connect them to your mission (or what already connects them). Dig into that data to learn more about your base and what approaches have worked in the past and have candid one-on-one conversations with your supporters. Also, approach your own career aspirations with curiosity and authenticity! It's OK for your path to change if you feel that it needs to. You also never know who you will learn from and be inspired by. I have benefited deeply from informational interviews with both professionals that work in development and professionals that do not work in development. 
Share this post: