FACES OF WID- June 2021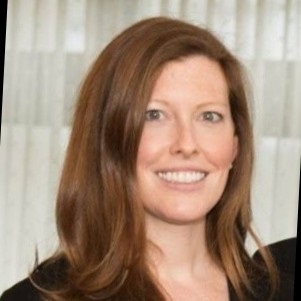 Name: Katie Quackenbush Spiegel
Title & Organization: Senior Director, Integrated Marketing and Communications, Massachusetts General Hospital
WID Role: President. Formerly VP, Brand; Co-Chair, Marketing & Communications Committee; board member; and regular member since 2004
Hometown: Canton, NY (way up in the North Country, near the Canadian border)
Lives Currently: Milton, MA
Education: BA English, Creative Writing at Boston College; MS Print Journalism at Boston University
Hobbies: Travel, running (and since COVID, Peloton), painting, skiing, cooking and then eating it 
When and how did you join the development field? What path brought you to your current role? 
I always wanted to be a writer, and when I graduated from college in 2001, I thought I'd instantly be snapped up by The New Yorker or The Globe as a columnist. HA! When (surprise) that didn't happen, I realized I had to find another way to make a living as a writer. I tried working at: a magazine, an ad agency, teaching, and freelance writing (with a side of waiting tables the entire time). Finally, a friend (hi Erin) told me about development, and another friend (hi Kimmy) gave me her WIDGB password (90210). My first development job was as a development writer at Boston University, where I ultimately earned my master's degree, and from there I worked in development communications, proposal development, corporate and foundation relations, events, and donor relations for a bunch of institutions, and even more through a busy freelance side hustle. To this day, there are not enough writers to go around in our sector—tell your little English major cousins and young friends who want to be columnists for The Globe!   
Is there someone who has shaped or influenced your career in development? If so, in what way?
The indomitable Morgan Herman has been a mentor, cheerleader, boss, and friend for the past 15 years. Bari Walsh taught me on probably day two in this field about "happy vs. glad editing" and not to take myself or my writing too seriously. Celia Regan taught me that every writer needs an amazing editor. David Passafaro and Ted Reardon (who is too cool for the internet) taught me that work should be sort of fun, and if it's not, change it. Carmella Dion taught me that writers have to stick together. Over hot or cold beverages.
Tell us a bit about the organization for which you currently work and how the COVID-19 pandemic has affected the organization's work:  
I work for Mass General Hospital. So, while the mission is a little bit of a no-brainer, I'm learning that there can be a misconception about the need for philanthropic funds at such a large, historied institution. People always say to me now, "Oh, you work for Man's Greatest Hospital." But MGH is still a non-profit; there aren't extra funds laying around to pay for all of the brilliant ideas the faculty and staff have to improve the health of people here in Boston and around the world. The hospital would not be the global leader in research, patient care, and medical education without our donors; philanthropy is what allows MGH to make that local and global impact. Mine is also a MGH grateful patient family, several times over, so I've experienced first-hand the benefit of many of man's greatest physicians coming together to figure out how to save a life.
How do I envision WIDGB growing and evolving in a post-pandemic environment?
I think this brave new world we're venturing out into is going to be intense for a little while. We're all eager to get back out there, and get to work, and be among each other again (or, as I like to joke, "breathe on each other again") but it's going to be a little disorienting for a while. Workplaces aren't going to be exactly what they were before we "left;" some of us won't go back to physical offices. Our skillsets continuously have to shift lately, and we have to be ready to be a little uncomfortable, learn new things, bend in new ways. Some of our members have been waiting things out before looking for new opportunities; some of our Jobs partners have been waiting to post open roles with us. Meanwhile, our entire nation is waking up and facing the reality that ours is a racist society, and that it is the job of every single one of us to change that in our work, in our sector, in our lives at home and out in the world. I think WID can be part of these big changes for our members. WID can help us find a new job; gain new skills; think differently about our careers and organizations. WID can help us identify and un-learn bias, connect with and include all cultures of people better, and improve practices around how we raise money and how our nonprofits spend it. Our goal at WID is to serve you, our members, and it seems like this is a great time and space for WID to shine.
Why did you join WIDGB? How has the WIDGB community supported you either throughout the pandemic or before?
I joined WID because Kim told me I should to find a job, and it worked, and I've never really left. I have always loved how affordable our professional development programs are, and the networking is really second to none in Boston. Members open the door for members without a second thought. I changed jobs twice during the pandemic, and the advice of my friends from the WID board helped me make some tough (but right) decisions about making moves during an uncertain time (Tracy, Kellen, Judi… all of you!).
Describe your biggest development success story to date, or can you share with us an inspiring development story from your career?
I have a few that I love. I once wrote a proposal for funding for a very unsavory piece of clinical technology that is gross to talk about but is critically important in treating a type of cancer (I won't go into details about how the equipment works), and the donor wrote the check after reading it. Another time, I wrote the proposal that ultimately resulted in the gift that named the institution. Pretty cool. This one was fun; I wrote an entire proposal about public health and did a "search/replace" for every instance of the word "public," but I left the L out :) But I think my favorite was the freelance job where a donor who received an annual fund appeal I wrote actually called the development office in tears to thank them for sending it to him. He made a gift, too.
What advice would you offer to someone new in the field of development? 
That there's no harm in asking. For the gift, the extension on your deadline, for what you think should happen, for support, for the promotion, for what he makes (or more), for the training. For what you want. Go get 'em!
Share this post: