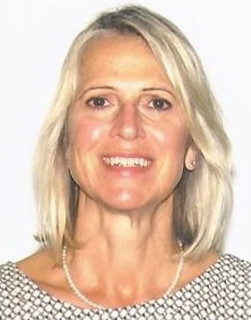 Name:  Wendy Davison
Title & Organization: Assistant Director of Annual Giving, Salem State University (SSU)
WID Role: Current WIDGB member and on the Membership Committee
Hometown: Berkeley Heights, New Jersey
Lives Currently: Salem, Massachusetts
Education: BA in Business Administration from The George Washington University, MBA in Business from Salem State University
Hobbies: Exploring the North Shore and beyond! There is always something to do. We have great beaches for long walks and reflection and a variety of events. In my downtime, I like to read and do puzzles – crossword or jigsaw.
When and how did you join the development field? What path brought you to your current role?
I moved from Virginia to Salem, Massachusetts, in 2010 after a couple of years in Rhode Island. I always believed in education and lifting people up to be the best version of themselves. When I was connected to Salem State University, I fell in love with the mission and its commitment to making education affordable to its students. I started as a development assistant and helped develop the parent council and student philanthropy council. I loved connecting with different parents. I was also amazed by the students, many of them first-generation and, balancing a full class load and working full time.
 Is there someone who has shaped or influenced your career in development? If so, in what way?
I learned the importance of philanthropy through my father. Growing up, he was actively involved in nonprofits and was the executive director of Multiple Sclerosis. Naturally, he would bring me to their fundraising events. From being exposed to the impact of philanthropy at a young age, I knew this was something I wanted to one day pursue in my career.  
Tell us a bit about the organization for which you currently work and why fundraising is important to the mission.
I work at Salem State University in Salem, Massachusetts. Salem State's mission is to provide a high-quality, student-centered education that prepares a diverse community of learners to contribute responsibly and creatively to a global society and serve as a resource to advance the region's cultural, social, and economic development. State support for public education has decreased over the years. For example, in 1983, students paid 30 percent of the cost to attend a state college; today's student pays 70 percent. Dwindling commitment means that equitable access to a state university has become increasingly difficult for Salem State students and their families. Without frontline fundraising, we wouldn't be able to meet the priorities of serving our students. On May 6, we launched a campaign to raise $75 million. The campaign focuses on four priorities: student financial assistance (to get them in the classroom), student success (to get them to commencement), the ongoing SSU BOLD campaign, and unrestricted support. 
Why did you join WIDGB?
I joined WIDGB to be part of a community of professional women who share similar interests. After a couple of years, I wanted to get more involved with the organization, so I joined the membership committee. It is a pleasure to serve on this committee to help recruit, retain, and promote women in development!
 How has the WIDGB community supported you either throughout the pandemic or before?
During the pandemic, WIDGB hosted webinars, networking, virtual coffees, and a paint night. Through a time when social interactions were limited, I still felt connected to a community that continued to support each other during an uncertain time.
 Describe your biggest development success story to date.
Helping to establish a senior class fund at Salem State University. The senior class fund was created to raise funds for a scholarship to be awarded to an incoming first-year student. In 2013, the student committee raised over $1,500 in six weeks. Several years later, as the program grew and became a student tradition, the fund reached $25,000 and was endowed. Given the financial demographic of our student population, this was a huge accomplishment for them. It was an honor to connect with students who shared their stories of how the scholarship helped them and how important it is for other students to receive this scholarship.
 How do you incorporate principles of DEI into your development work?
Or
Share with us a DEI priority or principle from your organization that particularly inspires you and why.
I enjoy working at Salem State because it is so diverse, and the university is committed to the principles of Justice, Equity, Diversity, and Inclusion. The university is dedicated to creating programs, policies, and opportunities to further diversity, equity, and inclusion for our students, staff, and faculty.  Additionally, Salem State serves a 22 percent Hispanic and Latinx student population, and demographic trends indicate that this number will be 25 percent by 2025. Massachusetts has six HSIs, and Salem State leaders expect the university to be the first public four-year institution to reach this designation.
What advice would you offer to someone new in the field of development?
A few pieces of advice I would give to someone new in the field of development would include getting involved with WIDGB! It is a great network and resource to meet and connect with other women in the field and hear their stories. It provides wonderful training to continue to learn and grow. I would also tell them not to be afraid to ask questions and to get involved in as many different parts of development as they can.
Share this post: