Program Recap: Coffee with Sara Minkara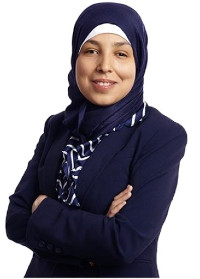 The WID Community is so grateful to have had the opportunity to hear from Sara Minkara, MPP in our virtual 2021 Fall Kick-Off: A Conversation Over Coffee with Sara Minkara on Wednesday, November 10. The inspiring, emotional, and informative conversation was moderated by Stacia Sylvia, who has been a WID member since 2014 and on the WID board since 2017. Stacia currently is the Director of Foundation Relations and Development Operations at the Massachusetts Association for the Blind and Visually Impaired.
Sara is an internationally recognized champion for disability inclusion, individual empowerment, and social empowerment. Her life completely changed at the age of 7 when she lost most of her vision. Her intersectional identity as a blind, Muslim, Arab-American woman has motivated her to connect more deeply with others and focus on new approaches to inclusion. Sara's biography is incredibly impressive, including being recognized as one of Forbes 30 Under 30, and her recent appointment as United States Special Advisor on International Disability Rights this past Fall.  Sara also has experience in the nonprofit world, and while she was an undergraduate student at Wellesley College, she started Empowerment Through Integration, a nonprofit that is committed to "developing a more inclusive society and breaking the cycle of disempowerment of people with disabilities by focusing primarily and intensively on the capacity building and mindset transformation of local professionals and families in underserved communities." How Sara introduces herself is:
"I'm a daughter, I'm a sister, I'm a friend, I'm a colleague, I'm a troublemaker, I'm a traveler. I love to listen to audio books, I love to eat chicken, I love to drink coffee, I love math, I love horses, I love nature. I'm an introvert. I am a woman, I am Muslim, I am blind, I am a person with a disability and I'm very proud of it."
Stacia expertly moderated the conversation bringing both her perspective and asking key questions. Topics explored included Sara's mom's impact and inspiration on her life in not allowing her disability to get in the way but instead to embrace it as part of her identity, how to manage imposter syndrome and find takeaways from failures, how we can be more mindful in our own assumptions of others, Sara's journey in the nonprofit realm as well as her personal and professional journeys, and the power of her blindness that has given her a purpose in life and is a large part of her identity. There were so many takeaways from this conversation, but some that stick out are:
Always bring your authentic self forward and be kind and compassionate with yourself. Take a step back when things get overwhelming, find allies, and find a balance.

We should give ourselves permission to be imperfect. The more we fail, the more we learn.

Our society has not yet come to a point where we have normalized disability in a way that we expect people with disabilities to live their full lives. 

During this time when there is an increased focus on DEI initiatives, to make an impact, we can work on being mindful in our own assumptions of others, create a space for each person individually on how they are reacting to narratives and assumptions of others, and provide the space to have difficult conversations. 

Disability is often excluded from conversations about DEI, and tends to be addressed only from a technical lens if it is addressed. The more we mobilize that conversation, the better. It should be a part of organizational programs, processes, and policies so that it's not just an add on but a perspective shift.

Fundraisers can tell stories that are supportive and uplifting about the people that they serve without sounding like "inspiration porn" by not using the word "help" but instead referring to beneficiaries as a part of the community and allowing beneficiaries to tell their own stories that demonstrate impact.

Everyone has the power to make a difference and can contribute something beautiful to the world.
Premier Sponsor: CCS Fundraising 
Event Sponsor: Massachusetts Association for the Blind and Visually Impaired 
Share this post: