Program Recap: Middle Tier and Major Giving Pipeline Development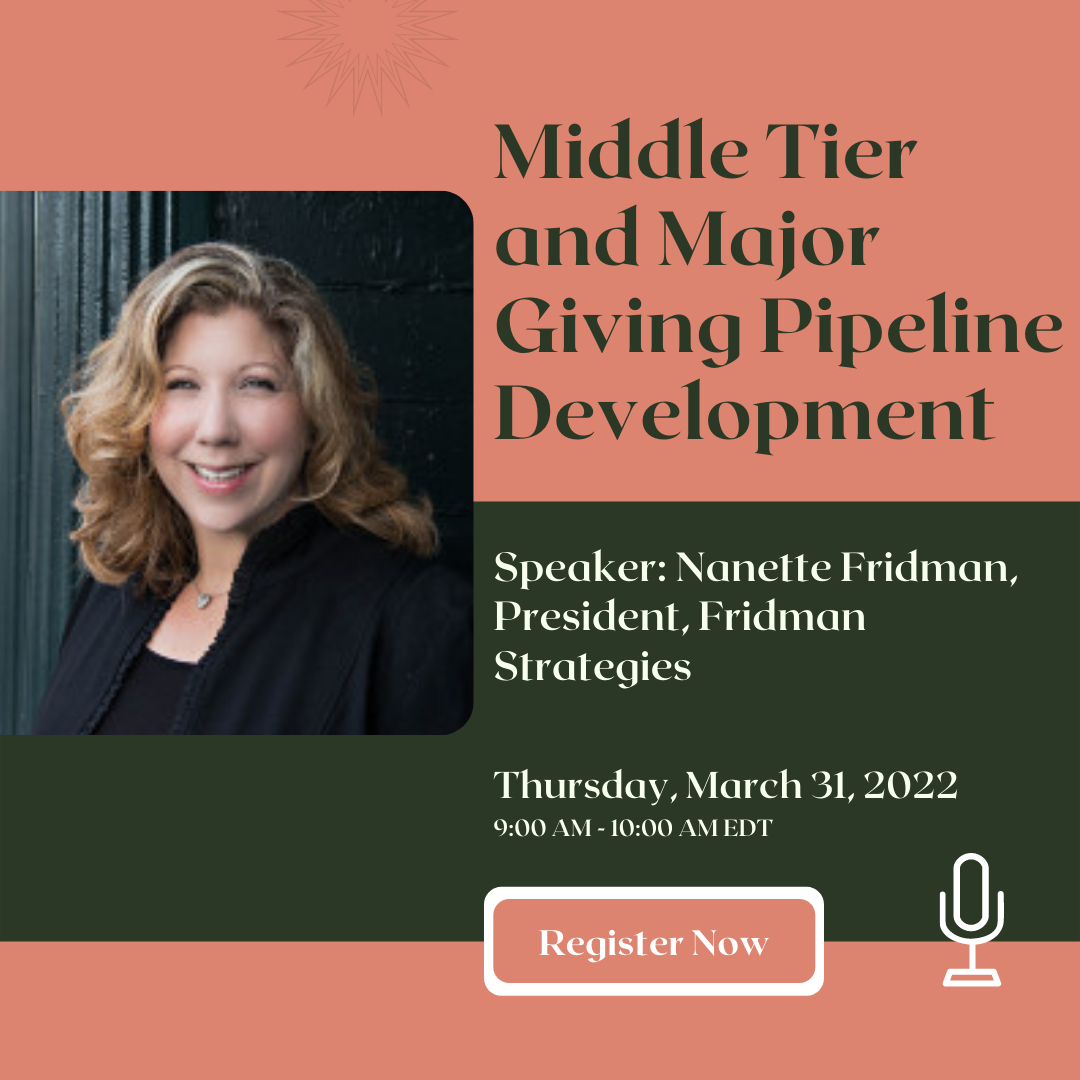 On Thursday, March 31, WIDGB attendees had the opportunity to learn about Middle Tier and Major Giving Pipeline Development through a presentation from Nanette Fridman, Founder of Fridman Strategies. Nanette has over 25 years of experience with nonprofits as a professional, lay leader, consultant, and coach, and partners with organizations of all sizes. As attendees introduced themselves in the chat, it was clear that fundraising employees of large, small, and mid-sized organizations were all present.
Nanette encouraged attendees to first do an audit of the existing pipeline for their organizations to determine which areas are already covered and which areas can be improved. Those areas are listed below:
Organizational Agreement and Culture
First off, is this work even a priority of the organization? Is there a way that this is measured (i.e. retained donors, upgraded donors, number of new donors)? Is there a particular person in charge of creating a pipeline?
Operationalizing Pipeline Development
Does the organization utilize a CRM that works well enough for what you are trying to achieve in an organizational pipeline? Is there a robust identification process of who is likely to give each year, who is likely to upgrade, who are new donors, recovered donors, etc.? Does the organization utilize research tools like wealth screening in order to rate donors and prospects? Is there another way to gather donor information through conversations, surveys, focus groups, and/or through online research (Google Alert, LinkedIn, social media, Zillow)? Does the organization have a system to tier and prioritize time spent on qualified donors and prospects?
Prospect Relationship Side of Pipeline Development Strategy
Is there a library of philanthropic offerings (a list of engagement with the organization by donor giving level)? Are there individual donor cultivation and stewardship plans to, for example, review the library of philanthropic offerings? Is there a process by which the organization pulls donors through your pipeline?
Team Effort & Collaboration


Are committees, volunteers and staff on board to help and offer ideas?
After the presentation, Nanette encouraged attendees to take this presentation back to their organizations to begin a conversation. For smaller organizations, it would be most helpful to prioritize by getting to know who your donors are and concentrate on the major donors first. After the presentation, attendees had the opportunity to split up into breakout rooms and share one tip that they found helpful in their work or to share something that they learned today that they will bring back with them to their organization. 
Share this post: