Program Recap: "Maximizing Life Science Partnerships"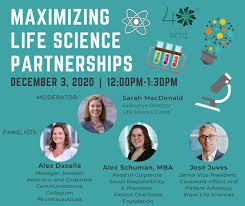 On December 3, 2020, WID asked a very basic, yet complicated question: How does a fundraiser make inroads with Corporate Social Responsibility programs in the Life Sciences?
This event, sponsored by CCS Fundraising, gave attendees concrete steps to begin building relationships with three Greater Boston life sciences organizations. The following panelists represented these firms: Alex Dasella, Manager, Investor, Relations and Corporate Communications, Collegium Pharmaceuticals; Alex Schuman, MBA, Head of Corporate Social Responsibility & President, Alexion Charitable Foundation; and Jose Juves, Senior Vice President Corporate Affairs and Patient Advocacy, Wave Life Sciences. 
Sarah MacDonald, Executive Director, Life Science Cares, moderated the panel, guiding listeners through the panelists' thought process on corporate strategy, decision making, and cold-calling. 
Alex Schuman opened the session sharing more details about developing and establishing the fund at Alexion. It was important to Alex and her team to create processes and procedures that would set the Foundation up for long-term success. This meant taking the time to build their mission and tie it to the important work of Alexion. Through this process, the Foundation identified three key areas of funding: emotional well-being, DEI, and education. Even during the COVID-19 pandemic, they have been able to support nonprofits in these same capacities, such as supporting virtual education or local food banks. They understand that one's emotional well-being is intrinsically tied to not being hungry. 
COVID-19 had had an effect on Collegium's giving, as Alex Dasella noted. They don't have a dedicated Corporate Social Responsibility office, instead, it's employee-led. The global pandemic has empowered Collegium's employees to think about corporate giving from a newly established employee match program that allows up to $1,000 in charitable donations to be matched by Collegium. 
Similarly, Wave Life Science has a one-man office, Jose, who handles corporate responsibility, so they rely on the enthusiasm of their employees. The culture of philanthropy at WAVE centers around giving back through financial donations and volunteer opportunities, which they view as team building activities. While a lot of financial resources fund patient programs, employees often lead initiatives to fund local nonprofits. 
An important theme throughout the entire conversation? Volunteer engagement! Employees are the driving force behind much of corporate giving, and each organization outlined the importance of providing opportunities for their teams to get involved. 
Interested in reaching out? All of the panelists said they are open to learning from nonprofits, but stressed a few things: do your research! You should know who you're emailing and understand their giving strategies. And Jose mentioned, make it easy and make a direct ask. It allows the conversation to move forward, saving everyone time and resources.
Share this post: