Program Recap: "WID 2020 Fall Kick-Off – Together Apart: WID Virtual Networking & Stories from the Desk of Mayor Yvonne Spicer"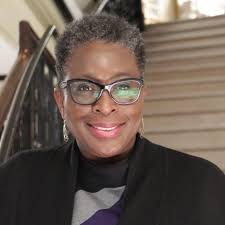 The morning began with greetings from WID's President, Kellen Epstein and two 15-minute networking sessions. It was a wonderful way to start the morning and was a fun, virtual replacement for the normal networking that would happen in the room at a WID event.
At 10:00 AM, the now over 100 participants gathered together to hear welcome remarks from Kellen, delivered directly from her parent's bedroom in the house she grew up in. Kellen shared that 2020 has been a practice in uncertainty and patience. What this year has meant for Kellen's family, is that after over 12 years in Boston, and 7 ½ amazing years at MIT Sloan has recently moved back to Michigan to be closer to her family. Kellen has started in a new role at the Ford School of Public Policy at her alma mater, the University of Michigan. It wasn't an easy decision to make, but so many of us are facing difficult decisions in light of the ongoing global pandemic. Happily, Kellen will stay on as WID's President through the end of her term in June, in this virtual world we now all live in.
Kellen then shared a bit about WID Asks Why, a new program series to explore timely issues, as we continue to grapple with concerns around the pandemic and systemic racism built into our industry and our society.

Kellen then introduced the incomparable Dr. Yvonne Spicer, first Mayor of the City of Framingham. Mayor Spicer kicked off her remarks with a sentiment that WID members hold dear, that she is always excited at the opportunity to dialogue, network, and to inspire and be inspired. Mayor Spicer titled her remarks "I Wouldn't Take Nothing for My Journey," after a book by the same name by one of her favorite authors Maya Angelou. (She's also a big James Baldwin fan! She usually reading 3-4 books at a time. Some recent titles include How to Be an Antiracist by Ibram X. Kendi, Leadership: In Turbulent Times by Doris Kearns Goodwin, and Mayor: The Best Job in Politics by Michael A. Nutter.) Mayor Spicer said this title reminds her that everything is not linear and that every step of this journey has shaped who she's become.
Mayor Spicer went on to share some of her early jobs, including selling lingerie at the flagship Bloomingdale's in New York City when she was 16 years old, as well as her formative experience as a camp counselor, and then a young teacher in Framingham. She was faced with the daunting task of teaching woodworking to middle schoolers, a task that wasn't her expertise. But, she faced it unflinchingly, thanks to her mother's motivating words. (Mayor Spicer asked who do you call when you have to make a tough decision and the overwhelming majority of attendees shared "My mom!") Her mother told her, "If teaching woodworking is your Achilles heel, you need to get in there and master it."

Mayor Spicer shared a bit about the powerful network she's built, from the late John Lewis reminding her to stay focused during her run for Mayor, to Senator Elizabeth Warren and Representative Katherine Clark participating in her swearing-in ceremony. Just 3 days after that swearing-in ceremony, 16 inches of snow fell on the city of Framingham and Mayor Spicer was facing her first municipal emergency as Mayor. She took it in stride though, remembering, if it's her Achilles heel, she needs to get in there and master it. Learning to pivot like this has been an important skill throughout the COVID-19 pandemic. One example is when public libraries were forced to shut in order to mitigate the spread of the virus, the staff were redeployed to make calls to seniors to connect them with resources and check in on them.
Mayor Spicer also touched on how doing this work and being not only a woman but a woman of color has its own burden and challenges she has to navigate every single day. She recognized the important work Emerge Massachusetts and The Massachusetts Women's Political Caucus are doing to amplify voices of women of color in Massachusetts.
Lastly, Mayor Spicer reminded us to never forget where you come from. She shared how her great grandparents were enslaved, and her grandparents survived the Ocoee massacre a mob attack on African-American landowners trying to exercise their right to vote in Florida in 1920. If it weren't for her grandparents' journey, and for their fleeing to Apopka, FL, she might not be here speaking with us today. She often thinks, "What if they didn't survive?" A question many decedents living in the diaspora often ask themselves. Mayor Spicer closed by saying this is why she feels a sense of responsibility to serve, to vote, and to give back.
This incredible morning wrapped with some questions from attendees, including what does she want to be her legacy as the first Mayor of Framingham, to which Mayor Spicer proudly responded that she did tick a lot of boxes, not only as Framingham's first Mayor, but also as the first African-American woman to be popularly elected mayor of any city in the Commonwealth of Massachusetts, and that what's important to her is that she's not the last.
Share this post: