Faces of WID - November 2020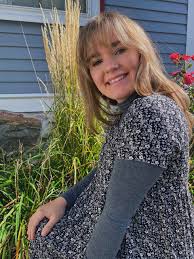 Name: Cailyn Carr 
Title & Organization: Development Associate, My Life My Choice 

WID Role: New to the Development Profession Member
Hometown: Hartford, CT 
Lives Currently: Somerville
Education: B.S in Communication Studies, Emerson College, Class of 2020
Hobbies: Going to concerts/music festivals (pre-COVID, of course), journaling, styling secondhand clothes

How have you been coping personally during quarantine?
At the beginning of quarantine when I had to come home from college, I spent a lot of time with my dog Nelly. We went on walks together, played, cuddled – she even slept in my bed. Since moving into my apartment in Somerville, I have taken up walking and jogging on the community path, cooking meals from scratch, and watching mindless reality TV (Love Island and The Bachelorette, to be specific.)
When and how did you join the development field? What path brought you to your current role?
In my freshman year of college, I needed a job. I was hired as a Phonathon caller to fundraise for the school by calling alumni and students' parents. From there, I was promoted to be a supervisor of the program and began to play a more direct role in philanthropic giving and alumni engagement. Fast forward a couple years and I was looking for a senior-year internship. My Life My Choice stuck out in my search because the founder and executive director had spoken in one of my sophomore-year classes and I was struck by the organization's commitment to fighting exploitation and supporting survivors. After interning for about four months, nearly three of those being remote due to the pandemic, I was offered a full-time Development Associate position and the rest is history! I've been an official employee of My Life My Choice since May 18, 2020 – the week after I graduated from college.
What are some tips and tricks you have incorporated/learned from fundraising during the COVID-19 global pandemic?
In a weird way, I feel grateful that the pandemic happened when it did in terms of my professional development timeline. Starting my first full-time job in a virtual world was challenging, to say the least, but I also think it pushed me to think in new and innovative ways right from the start. When I was first hired, I had to think critically about how to cultivate relationships with donors while not being able to meet them in person. At the same time, our fundraising gala was quickly approaching and my team was brainstorming ways to promote the now-virtual event. So, I went back to my Phonathon roots and called people up! The script I developed checked three boxes: introducing myself to donors as a new employee; checking in with our donors; and spreading the word about our event. In the hundreds of calls I made during my first few months, I learned that personal connection is incredibly valuable to fundraising, especially during a time like this. In an age of flooded inboxes and Zoom fatigue, sometimes what sparks that connection is a good old-fashioned phone call. Of course, calling donors is not a profound or original concept, but it was not a regular part of my organization's development program prior to this, especially not outside of solicitations. Creativity is now something I will carry through my career in development and beyond and this experience taught me to not think that the way it has been done is always the way it should be done.
You recently joined WID as one of our first "New to the Development Profession" members!
Describe your biggest development success story to date.
As I'm sure many development professionals can relate to, it was a bit of a scramble trying to figure out what to do with our spring event when COVID hit. The story I am most proud of in my development career so far is pivoting our largest annual fundraising gala, Turn on the Light, to be a successful virtual event. While I am proud of every role I played in that process, from managing the communication plan to finding/implementing an online events platform to supporting the creation of the actual event, my biggest success from Turn on the Light is launching peer-to-peer fundraising. Since we eliminated ticket fees for the virtual event, I launched an online program in which supporters of My Life My Choice could create their own fundraising pages and share them among their networks in order to raise money for Turn on the Light. In a span of about three months, I recruited and trained over 30 peer fundraisers who ended up bringing in just under $50,000 for Turn on the Light 2020. I am so grateful to have been able to play a part in the success of My Life My Choice's first virtual event during the very beginning of my job.
What advice would you offer to someone new in the field of development?
I don't have research to back this up, so don't quote me, but from personal experience, it seems to me that donors and supporters value a careful balance between personal connection and ease of use. People want the friendliness and familiarity of a mom-and-pop shop while also having the nearly-instant accessibility of the Amazons and Targets of the world. I think that we have to make it easy for folks to engage with and support our causes, but not make it so automated that it eliminates the human element.
Share this post: