Program Recap: Exploring the Latest Trends in Philanthropy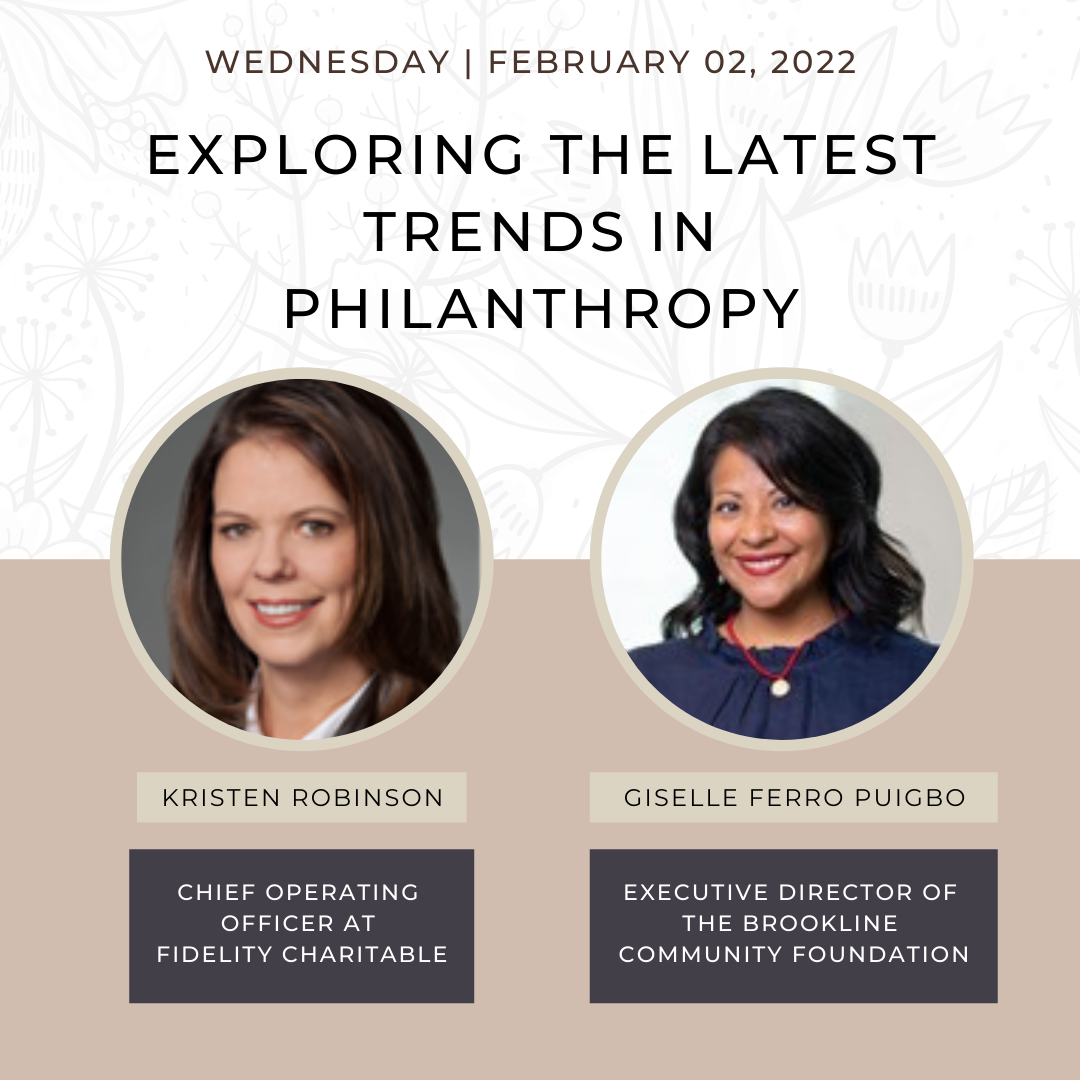 On February 2, 2022, Women In Development was thrilled to host a discussion featuring Kristen Robinson, COO of Fidelity Charitable, to share insight and trends in donor giving and donor advised funds (DAFs). Moderated by Giselle Ferro Puigbo, Executive Director of the Brookline Community Foundation, the session was well attended as participants were given information and strategies on how best to navigate DAFs and to utilize donor trends to help shape their fundraising strategies. 
By way of background, Fidelity Charitable is a 501c3 organization with a mission to grow charitable giving. Having been established over 30 years ago, 2020 proved to be its largest grant making year (as of yet) with Fidelity Charitable donors recommending 2 million grants totaling just over $9 billion. For many nonprofit professionals, understanding how donor advised funds work, and how best to approach those donors, has become increasingly important topic as this vehicle continues to grow in popularity.
Fidelity's role is to make charitable giving to a donor advised fund easy – and takes some of the work away from nonprofits, especially when converting gifts other than cash.  For example, two thirds of most philanthropic donations to a donor advised fund are not cash, and often times, are comprised of complex assets.  Fidelity has an entire team to assist the donor by liquidating those types of assets into gifts that can be given to nonprofits.  Since many nonprofits are not set up to handle these types of complex giving situations, this proves to be a benefit for the organization.
Fidelity also does a lot of work monitoring and tracking giving trends and Kristen shared a few with us – millennials consider themselves very philanthropic with 74% seeing themselves as philanthropists compared to 35% of boomers. Additionally, they view philanthropy as being more inclusive, with younger generations considering their volunteer work, or buying from a socially responsible company, part of giving back – with all their acts of social good included. What may be less surprising, as many big shifts have occurred in philanthropy due to the pandemic, social networks still play a major influence on giving decisions. With 40% of millennials deciding to donate due to something they've seen on social media, no matter which platform, and also choosing to leverage their networks to help raise funds for a cause important to them. 
Demonstrating impact continues to be a key factor for donors when they are looking to increase their giving, and especially when they are considering giving again to an organization.  Whether you are reporting back to a donor on what your organization has accomplished due to their generosity or utilizing your successes to encourage donors to engage with you, it is an important to always keep this front of mind.  As many donors have been forced to engage digitally with nonprofits due to the pandemic, ensuring that your digital presence share these key messages with your donor, is easy to navigate, and allows for donor participation will be important factors for overall donor engagement and recruitment.  A donor's last experience is their next best one – so as their expectations evolve, you should be adapting your website to make it as easy as possible for them.
As fundraisers, the question always comes up on how best to engage with donors who give through a donor advised fund.   Since an individual's financial situation can vary from year to year, a donor advised fund is a great way to adjust what someone is able to give philanthropically by placing those funds into these types of accounts.  They are irrevocable and the donor is able to tax the donation at the time they make the gift to the donor advised fund.  While some donors may grant their entire fund right away, nearly 62% want to continue granting throughout their lifetimes, and continue to give to it and allow it to grow.  There is no minimum amount to open a DAF at Fidelity, although there may be at other places.  On average, donors designate 12-13 grants a year with the average size of a grant being $4,500. Very few donors choose to make their DAF gift anonymous with less than 4% falling into that category.  Quick ways to increase the number of gifts through donor advised funds include adding an option to give through a DAF on your website, and making a special note on your marketing material highlighting this as an option, will let donors know they can give to you through this vehicle. 
As more and more donors choose to utilize this vehicle as a way to support their favorite nonprofits, the information provided by both Kristen and Giselle on overarching trends and themes of these types of donors and their giving tendencies was incredibly helpful. By utilizing the strategies shared during this session, fundraising professionals walked away with a better understanding of how a donor advised fund words, how to encourage these types of gifts and how best to approach those donors who currently give in this way to hopefully instill a deeper connection to our missions.
Share this post: