Event Recap - Annual Spring Meeting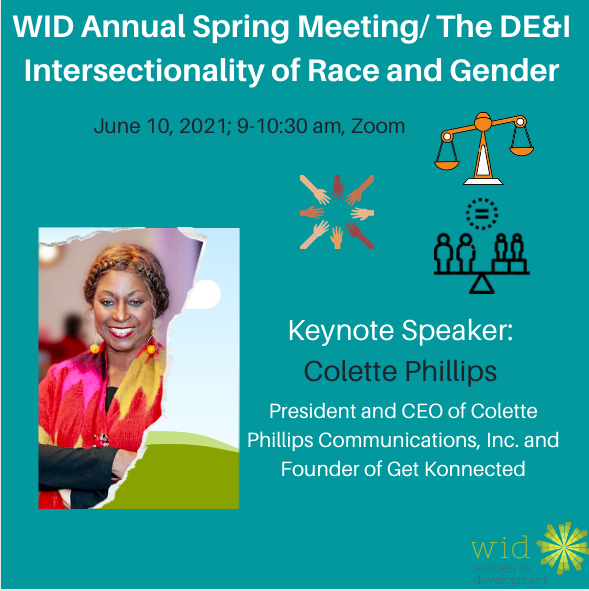 On Thursday, June 10th Women in Development of Greater Boston hosted our Annual Spring Meeting over Zoom to an impassioned audience. After a moving opening from outgoing WID President Kellen Epstein, during which she thanked the legacy of women who came before her, she introduced the incoming WID President, Katie Quackenbush Spiegel. Katie charted the direction for WID, with a focus on growth, movement, and accessibility.
WID Board Member and co-chair of the DEI Committee, Elsa Gomes Bondlow moderated an engaging and enlightening discussion on Diversity, Equity & Inclusion and the Intersectionality of Race and Gender with our featured speaker Colette Phillips. Phillips is the President & CEO of Colette Phillips Communications, Inc. and the Founder of Get Konnected!
Colette shared tips with our audience about how to build more inclusive networks and provided tangible data proving that, when we are all-inclusive, our nonprofits and businesses are more successful and profitable. In order to be more inclusive, Colette shared that we must move from a place of denial of systemic and structural racism, and that white men and women must become better allies in order to move an inclusivity agenda forward together. Businesses may also take steps toward employee inclusion, such as building Employee Resource Networks and creating an Internal Content Program to help employees of color with career development plans. Ultimately, Colette shared that employees need commitment from the board room, corner office, and senior leadership in order for any real change to happen internally.
Overall, the message that rang loud and clear was that inequality hurts everyone and change is possible. We at WID look forward to continuing to promote messages and programs with a diversity, equity, and inclusion lens and continuing to learn and grow in this space to become a stronger community for people of all races, cultures, ages, levels of ability, etc. Please keep an eye on our fall programs calendar and consider becoming more involved with a WID committee in 2021-2022.
Many thanks to our Key Sponsor CCS Fundraising for their long-lasting support of our programming and commitment to development professionals.
Share this post: